Information on the 2023 Census
This year, the Central Bureau of Statistics (CBS) will organize a comprehensive count of the population and housing in Curaçao, known as the "census." The 2023 Census will start on September 2, 2023.
During the 2023 Census, a comprehensive count of persons, family dwellings and collective residences (such as care homes and prisons) and their inhabitants on Curaçao will be conducted.
What is a census?
 
According to the United Nations, a census is defined as a comprehensive process of collecting, evaluating, analyzing and publishing demographic, economic and social data on all people in a country at a specific point in time. This definition also applies to housing counts.
How often is the Census conducted?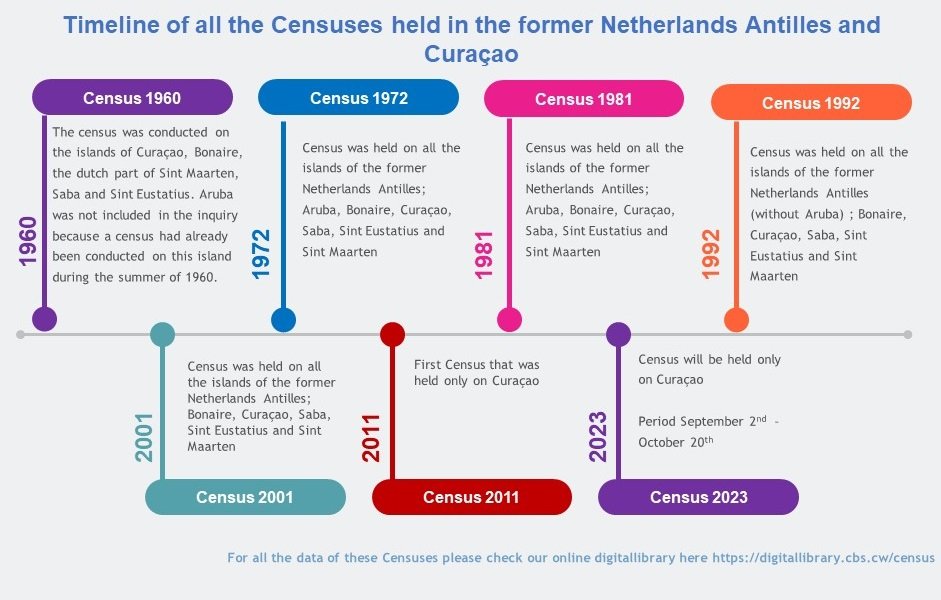 All the information of the previous censuses is available here: http://digitallibrary.cbs.cw/
Who will be counted in the 2023 Census?
All those who have been living on Curaçao for more than 1 year.
All those who, at the time of the Census, have been living on Curaçao for less than 1 year, but plan to stay here for 1 year or more.
Permanent members of the household must complete the Census form.
If a person is temporarily living in a household, he or she will be counted as part of that household and will participate in the Census. 
Those who are deceased after the 2023 Census start date (March 9 12:00 AM)
Who will NOT be counted?
Tourists
Those who have been living on Curaçao for less than 1 year and do not intend to stay for 1 year or more.
Curaçaoans residing abroad.
Dutch military personnel who will stay less than 1 year on Curaçao. Royal Navy personnel who will stay for more than 1 year on Curaçao will be registered.
Students in internships who will stay less than 1 year on Curaçao.
Children born after the start date of the 2023 Census (March 9th 12.00 AM)